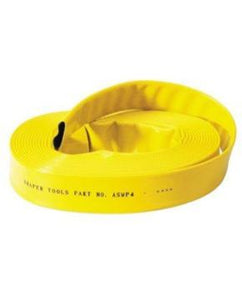 Flat hose on flexible PVC impregnated in the textile polyester mesh, with only one layer. Single layer flat hose manufactured with an anti-delamination system and with reinforced tensile strength.
Material: Flexible PVC with textile polyester mesh. 
Applications: Mainly for drip irrigation and covering water at low pressure
Temperature range: -10/+55ºC
Presentation: Available in 100 metres coil, sold per meter.
ADVANTAGES
Free of industrial waste
Decreases stretching when exposed to pressure
Anti-Delamination
Perfect for irrigation and water transportation
Stretching resistant
Traction resistant
Perfect adhesion between layers