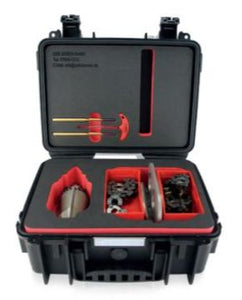 High-performance turbine cutter for removing roots and lime-like deposits. Extremely powerful. Quick change system for chains and guide slides. With 3D water guidance system and high-performance ball bearings. 100% recyclable water capable.
Chain sets 100/125/150/200 mm

Knife chains 100/125/150/200 mm

Guide carriage 100/125/150/200 mm

Assembly tool
Technical specifications
Equipment:
ceramic nozzle inserts

Field of application / purpose:
rooted, greasy or calcified pipes.

Advantages:

Guaranteed recycling water capable

highest flexibility in the area of ​​application

no wear due to rust

short design

low pump capacity required
Lead times on these items are up to 30 days if out of stock. If you require urgent delivery please contact us for more details.