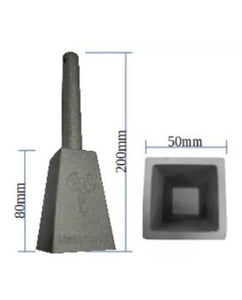 The stop tap valve key, designed specifically for use with the ManUp Key's slide hammer action to prevent the key getting stuck on valves.
THE REVOLUTIONARY INNOVATION FOR RAISING MANHOLES 
REVOLUTIONARY NEW MANHOLE LIFTING TOOL
The ManUp Key is a revolutionary new way of lifting manholes,  manholes can now be lifted without chiselling or hammering.  The ManUp Key provides a one man solution whilst still ensuring safe lifting and manual handling 
NO MORE STRUGGLING WITH STUCK MANHOLES
This new patent pending tool provides a momentary upward force of 1.5 tonnes!  Thanks to the 8kg weight and slide hammer action you are effectively hammering the manholes up!
NEVER CRACK OR BREAK A MANHOLE AGAIN
This cost-effective new tool will prevent damage when lifting even the most stubborn, wedged in manholes, damaging a manhole with a hammer and chisel can result in a very costly replacement