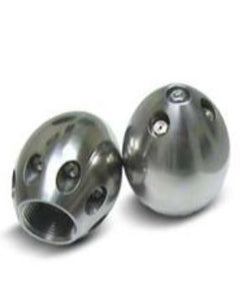 !Please specify flow rate and pressure in the text box in your shopping cart!
Egg-shaped cleaning nozzle with additional front jets to dissolve pipe blockages. Very good sliding properties and bendability. With 3D water guidance system for optimized cleaning results and good tensile properties. Jet angle in the thrust part 20 °. Front rays 15 °. Centric lx 0 °.
Technical specifications
Equipment:
Optional Steel or ceramic nozzles
Field of application / purpose:
cleaning and loosening of blockages
Advantages:

completely made of stainless steel

no wear due to rust

long lifetime

good sliding properties

good traction

good cleaning performance
Lead times on these items are up to 30 days if out of stock. If you require urgent delivery please contact us for more details.