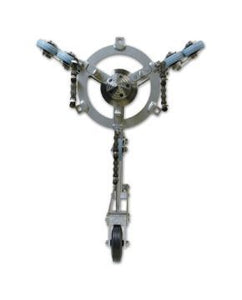 High-performance turbine cutter for egg profiles with flexible, continuously adjustable guide carriage. Suitable for removing strong roots and lime or fat-like wall deposits. Simple chain change system, powerful thanks to the 3D water guide system, 100% recyclable water, extremely user-friendly.
Technical specifications
Equipment:  ceramic nozzle inserts

Field of application / purpose:  rooted, greasy or calcified pipes
Lead times on these items are up to 30 days if out of stock. If you require urgent delivery please contact us for more details.